Aluminium soldering
Aluminium soldering: effective filler metals for welding applications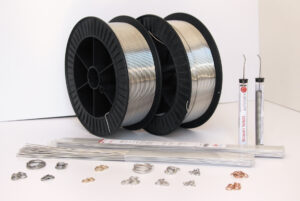 The Metaconcept Group is the French leader in non-ferrous metals supplies quality products for diverse business sectors, counting many manufacturing, retail and industrial clients worldwide. Indeed, any industry using or transforming non-ferrous components for production can rely on our products which offer a wide range of applications.
Among our range, we have developed aluminium soldering products in wire, rod form for TIG welding and a flux-cored wire in rod form for flame brazing and welding of aluminium combined with other alloys. Adapted to the needs of our clients in the sector of repair or manufacture of heat exchangers, soldering aluminium pieces have been elaborated with compositions and dimensions, characteristics best suited for welding applications.
Our technical team can guide to the recommended alloy for any specific application; Metaconcept Group's filler metals are useful in welding and repair work for heat exchangers, air conditioning condensers in alloy aluminium, but also, for repairs in casting parts and reinforcing grades of aluminium in agricultural equipment, such as tractor trailors or for connecting aluminium alloy and aluminium pipes.
Soldering aluminum rods or wires for different types of arc welding: TIG or MIG welding using recommended gas or mixture of gases meet international standards for quality and safety. For brazing, the METALU solder, the flux-cored wire is a non-corrosive solution which offers ease-of-use thanks to its inherent malleability once molten, suitable rod for use with an oxyacetylene blow torch, with parts assembly possible at 480°C.
Metaconcept Group can meet your production needs in terms of volume, purity of alloys; all our products meet the quality and safety requirements set by international regulations. Based in France, we have a subsidiary or distributor near you who will ensure you select the best suited products for your use, as well as, reliable delivery.
Feel free to ask us for the technical and safety information sheets for our soldering aluminium products and do not hesitate to contact us with any queries regarding our products and services.
METACONCEPT Groupe
Parc des Sables – 17 Route des Sables
69630 Chaponost
FRANCE
France : 04 78 51 38 38
Export : +33 478 518 597