Babbitting
Babbitting: made to order white metal alloys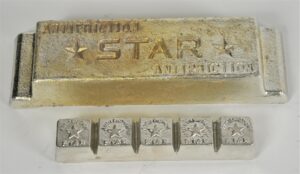 Since 2012, with the French company Bertrandias joining the Metaconcept Group, we are able to propose babbitting alloys for your machine components and parts, STAR®. The specialty technology allows us to produce Babbitt alloys to specific orders based on our repertoire of babbitting alloy structures or a composition provided by our customers. Metaconcept also supplies ETAMALLOY® powder and painting products with three actions: cleaning, fluxing and tinning, adaptable each composition in line with the set requirements of each country.
For bearing components in aviation, marine, heavy load bearings in pebble mills, cement mills rolling mills… our range of white metals are used in the construction across industrial sectors. Lead based bearing metal or lead free white metal for high level tinning; Metaconcept produces the complex alloy structure for a multitude of applications. STAR® babbitting alloys provide good conductivity, good expansion coefficients and flowability along with the adapted mechanical properties from hardness, elasticitiy to shock and friction resistance. To meet the needs of our clients using thermal projection technologies, we have also developed innovative white metal solutions which are guaranteed lead free babbitting wires in dominant tin or nickel formulations.
Elaborated from primary metals, we ensure the quality of our Babbitt alloys, visible to the eye, thanks to their homogenous sheen. Thanks to our specialty companies, the Metaconcept Group can supply babbitting products regularly and for orders of any volume from a large available stock. Our high-level expertise and responsive production management allow us to manufacture your bespoke white metal and deliver in fast delay times.
Metaconcept Group is a French leader in non-ferrous metal products for industry, is at the forefront of development of high performance alloys for bearing metal alloys, fusible alloys, welding and centrifugal casting equipment, and provide alloy solutions for a complete range of industrial and manufacturing applications.
We are a regular supplier of babbitting alloy ingots and provide certification upon demand; do not hesitate to contact us for any further information regarding your specific requirements.
Our babbitt alloys can be used in different production processes: gravity casting, centrifugation casting. We also propose Babbitt wires for thermal projection.
METACONCEPT Groupe
Parc des Sables – 17 Route des Sables
69630 Chaponost
FRANCE
France : 04 78 51 38 38
Export : +33 478 518 597