Brazing
Quality alloys for manual or furnace brazing applications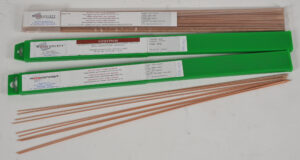 Brazing alloys by Metaconcept Group for soldering different assemblies of metals, have been developed for use in a wide number of applications, allowing us to provide brazing material for customers across a range of business and manufacturing sectors. For manual or furnace brazing, we provide the quality filler metals with exact compositions and properties.
Metaconcept proposes brazing rods, wires and performs and supplies a regular stock for plumbing work, manufacturers of electrical motors, refrigerators, indeed, any assembly of electrical and mechanical parts, including food and health sectors. Our production descriptions provide recommendations for each particular alloy:
Binary alloys such as those used in the plumbing sector do not require external flux when used on pure copper. In all other cases, the use of a flux is necessary. The phosphorous component of the Solder LOMYPHOS Cu/P range serves as flux, ensuring brazing surfaces are clear of contamination of any oxides. For optimal results, self-fluxing phosphorous alloys should be applied on pure copper, plumbing copper or copper alloys such as brass.
For the soldering of metals, steel, brass, bronze, nickel and copper alloys, without the use of external flux, Metaconcept proposes a flux-cored silver solder for brazing applications. Highly compatible for brazing of most ferrous and non-ferrous metals, the coated silver solder with its non-corrosive flux is an easy-to-use solution requiring no cleaning and provides an even quality. We provide this particular model across diverse sectors such as aeronautics, automobile industries, jewellery manufacture… available in wire, spool, preform and ring forms; the integrated-flux design improves work quality.
Present in over 50 countries, the Mecaconcept Group can deliver to your site with a fast and reliable service. As the French leader in non-ferrous alloys, babbitt alloys, fusible alloys and fluxes used for industrial brazing and soldering, we provide quality products, training and consultancy regarding best use of our filler metals, pure metals alloys and equipment for centrifugal casting. Feel free to contact our team about any further information regarding your brazing applications.
METACONCEPT Groupe
Parc des Sables – 17 Route des Sables
69630 Chaponost
FRANCE
France : 04 78 51 38 38
Export : +33 478 518 597