Cable socketing
Metaconcept solutions for cable socketing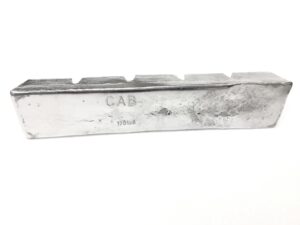 Metaconcept helps improve structure and performance of your products with an alloy designed for cable socketing. Our unique STAR® CAB solution responds to the need for lasting quality and composition free from dangerous substances and meets the international regulations for safety. Our lead-based, copper-free cable socketing alloy protects your cable end from eventual risk of splitting and separation whilst providing high resistance to crushing and fatigue.
STAR®CAB cable socketing alloy is available in separable 4kg ingot formats, Metaconcept offers fast and reliable delivery worldwide thanks to our permanent  stock and presence in over 50 countries. Discover more about the characteristics and composition of this specialty alloy and refer to our guidelines for optimal usage and results.
For correct seasoning of cable ends, users have the option of treating the surface (once degreased) with flux and soaking for tinning or use our innovative tinning formula, ETAMALLOY®, the Metaconcept Groups tinning solution which provides stripper, flux and tin in a single application saving time and effort during the preparation. Cable socketing alloy is a purpose-designed babbiting alloy and should be handled according to the set procedures.
As a leading specialist in pure metals and alloys, Metaconcept is at your disposal for consultancy and training regarding our Babbitt metal products. A made-to-measure seminar or training program can be designed for your operators regarding procedures of bearing, casting and cooling, safety and technical presentation of each alloy to be worked with. Our customers benefit from our on-going support and services and can also benefit from our expertise in handling waste and recycling issues.
Metaconcept is a French-based group, a leader in non-ferrous metal products for industry and serves a wide number of business and manufacturing sectors. For filler metals, Babbitt alloys, fusible alloys, centrifugal casting, pure metals, consult our range of products or request a bespoke alloy from our specialty team. We provide composition charts and certification upon demand; do not hesitate to contact us for any further information regarding your product requirements.
METACONCEPT Groupe
Parc des Sables – 17 Route des Sables
69630 Chaponost
FRANCE
France : 04 78 51 38 38
Export : +33 478 518 597