Cerroshield
Cerroshield: specialty fusible alloys by Metaconcept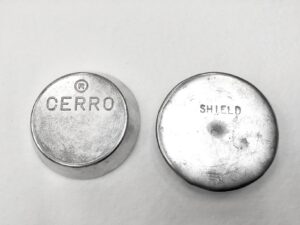 Designed specifically for the manufacture and repair of parts, in the medical and aeronautic manufacturing sectors, CERROSHIELD® is today, an important alloy used in the production of protective screens in radiotherapy. A fusible alloy of the CERRO® trademark, a guarantee of the highest quality and guaranteed performance with attainable Eutectic point, 96°C. For precise industrial applications, Metaconcept supplies a thoroughly tested product, with melting point verified following production and cooling behaviour documented to ensure a constant and reliable quality.
CERROSHIELD® and all CERRO® fusible alloys are designed applications requiring low melting point temperatures, made from primary metals, quality controlled by the Metaconcept Group for high purity. The fusible alloys offer higher resistance to rusting thanks to their bismuth-based non-ferrous alloys composition. Stamped with the CERRO® trademark, and sold as 1kg ingots, Metaconcept can provide a steady supply of this specialty alloy and adapt product format to stick, bar, large-scale ingots to match production and operational requirements.
Available for delivery in over 50 countries, Metaconcept is also an accredited training organization and provide seminars and practical training for our customers. Presentation of the mechanical properties of CERROSHIELD, composition, exact expanding or contracting behaviour during cooling, and correction operational procedures to follow for optimal use of this innovative metal, workshop safety… our expertise is at your disposal for your production line.
METACONCEPT Group is a French specialist for non-ferrous alloys, Babbitt alloys, fusible alloys and fluxes and accessory products for industrial brazing and soldering. Discover too, our filler metals, pure metals and alloys, and innovative products for centrifugal casting. If you require any further information regarding our CERROSHIELD® alloy or services, please contact us.
Our expertise also includes complex metal recycling systems motivated by a desire for sustainable development and better use of raw materials, do not hesitate to discuss any metal recycling issues with us.
METACONCEPT Groupe
Parc des Sables – 17 Route des Sables
69630 Chaponost
FRANCE
France : 04 78 51 38 38
Export : +33 478 518 597