Low melting point alloy
CERRO® low melting point alloys/fusible alloys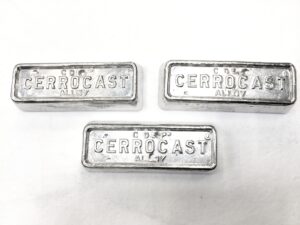 Metaconcept Group is a global specialist in low melting point alloys / fusible alloys and offers the metallurgy and specialty manufacturing sectors a complete range of compositions designed for specific applications for the manufacture or repair of parts. For prime quality fusible alloys at melting points between 38°C and 227°, discover CERRO®, bismuth-based, non-ferrous alloys, designed by Bertrandias, a brand name of the Metaconcept Group.
The quality of CERRO® low melting point alloys is guaranteed by Metaconcept Group. Thorough quality controls during production ensuring precise composition and post – production verifications of solidus / liquidus and expanding / contracting behaviour during the cooling phase are logged for reference. We propose high performance solutions for medical equipment, eyewear, shield protection in radiotherapy and a reliable product for parts and repair for any industry requiring low melting point alloys.
All CERRO® fusible alloys are elaborated from high purity, primary metals and include green (lead-free and cadmium-free) alloys such as, the CERROTRU® and CERROCAST® alloys for electroforming of very small parts, moulds, patterns, dies and settings. Our low melting point alloys are recyclable products which help improve reduce waste, as well as, prove reliable and easy to work with thanks to their specified characteristics. We provide product specifications and certification for all our low melting point alloys upon request and our expert team can advise you about a suitable fusible alloy for your specific application.
About the METACONCEPT Group, specialist in low melting point alloys
Metaconcept Group delivers to manufacturers in over 50 countries around the world with a fast and reliable service. Available in 1kg ingots, we provide customized forms and shapes for our customers, including bespoke sticks, rods, bars and pellet forms to match production requirements.
A leading provider of non-ferrous alloys, Babbitt alloys, fusible alloys, fluxes and soldering and brazing products, Metaconcept Group is also an accredited training organization and specialist in complex metal recycling systems. If you require any further information regarding our low melting point alloys or services, please contact us.
METACONCEPT Groupe
Parc des Sables – 17 Route des Sables
69630 Chaponost
FRANCE
France : 04 78 51 38 38
Export : +33 478 518 597