OUR CERRO® ALLOYS : AN ADVANTAGE FOR THE MEDICAL SECTORS TOO !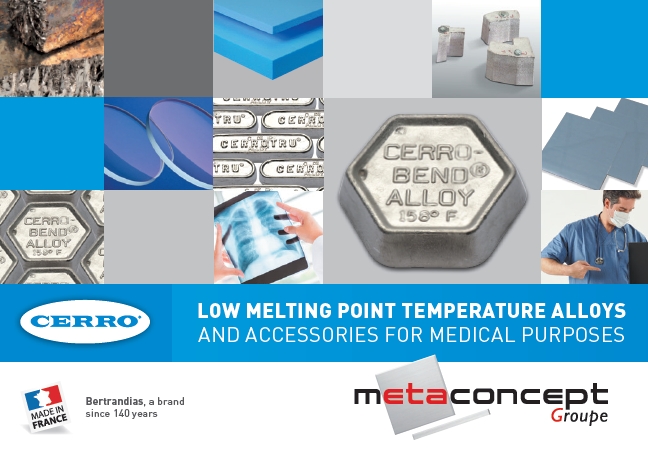 Thanks to its bismuth and high-purity primary metals, our low melting point temperature CERRO® alloy grants a perfect dilatation or contraction when cooling. Thanks to its flowability qualities, its use temperature and its very precise behavioural change, this alloy is particularly appreciated for the manufacturing of shields in the radiotherapy area (CERROBEND®, CERROSHIELD®) or for lenses anchorage in the optical field (CERROLOW®).
Our CERRO® alloys are supplied as small marked ingots with constant and systematically controlled quality. They are recognized for their very low melting point temperatures (from 38 to 200 °C).
During the Arab Health fair in Dubaï (the second largest Health exhibition in the world after Medica in Germany) and Al Moustechfa show in Alger last February, the METACONCEPT Group presented its low melting point temperature CERRO® alloys and its complementary medical accessories, each corresponding to a specific use.
These products meet the growing demand for standards and certifications made by professionals such as cancer clinics, radiotherapy departments and optical industries.