Pipes, tube and form bending
CERROBEND®: specialty alloy for pipes, tube and form bending
Expertise CERRO®
Datasheet CERRO®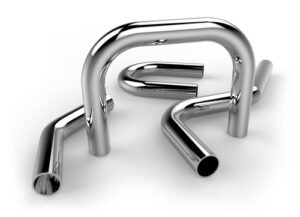 The Metaconcept Group's is a global supplier of new generation pipes and form bending alloys in 50 countries around the world. Designed and developed by Bertrandias, an expert brand of the Metaconcept Group since 2012, discover the specialty alloy, CERROBEND®, part of the CERRO® range of low melting point alloys, designed for the specific application of parts bending. By quality control during composition and logging of expanding and contracting behaviours during cooling phase, the Metaconcept Group guarantees the excellent mechanical properties of the pipe, tube and form bending alloy.
Cerrobend® bending alloy is suitable for low melting point applications and is used for parts forming, Tube bending, settings and is currently used by manufacturers to elaborate protective screen parts of radiotherapy equipment. Made from high quality, pure metals, Cerrobend® offers improved resistance to rusting and is recyclable thanks to its non-ferrous, bismuth based composition.
We provide a fast and reliable delivery service of our pipe and form bending alloy which is available in standard 1kg ingot form, however, we also adapt our technology to produce the alloy in a form best suited for your production line and application.
The METACONCEPT Group provides product specifications, certification and recommendations upon request and we invite you to view our guidelines for optimal use of our tube bending alloy, which includes advice about each procedure of the bending process: preparation, lubrication, preheating, drainage, load, tempering, bending, unloading and cleaning. We are also an accredited training organization and at your disposal for training support for your workshop operators, presentation seminar and consultancy regarding our product.
If you require any further information regarding our low melting point, bending alloys, fusible alloys, Babbitt alloys, pure metals, fluxes and centrifugal casting equipment or training or complex metal recycling services, do not hesitate to contact a METACONCEPT Group expert near you.
METACONCEPT Groupe
Parc des Sables – 17 Route des Sables
69630 Chaponost
FRANCE
France : 04 78 51 38 38
Export : +33 478 518 597