Selenium metal
Selenium supplies: specialty metals and alloys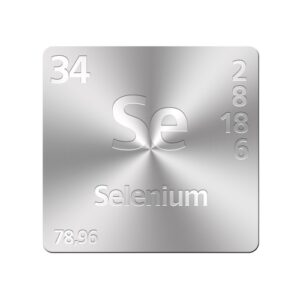 Metaconcept Group is a global provider of a complete range of non-ferrous alloys, specialty alloys and pure metals, supplying manufacturers in aeronautics, medical, food processing, automotive and metallurgy sectors in over 50 countries worldwide.
Discover the Metaconcept Group selenium metals with minimum 99.5% pure selenium metal purity. True to the values of excellent quality products for industry, we provide exact composition specifications, their typical values concerning impurities and structural properties, including crystal structure, stability, crystalline density, appearance, colour, melting point, boiling point and shelf life. Selenium in black or grey is available for delivery in powder or granular form. View atomic weight, EC (Enzyme Commission) number, CAS (Chemical Abstracts Service) number, characteristics and main industrial uses of selenium which include:
– Glass-making – to counter the green colouring effect of iron compounds or to add red colouring to glass.
– Electronics – selenium is used in the production of plain paper photocopiers and laser printers.
– Production of solar cells – selenium captures sunlight for conversion into electrical energy.
– Production of pigments
– Lead car battery manufacturing
Our experts are at your disposal for providing further technical data about our products and can advise about usage for your specific application. Certification of our metals and alloys are available upon demand.
Metaconcept Group is a French-based leader in non-ferrous metals, metal fillers, fusible, Babbitt and brazing alloys, blowpipes, pure metals, as well as, as designer and distributor of the latest centrifugal casting technologies. We are equally an accredited training organization and specialists in complex metal recycling systems; we provide tailor-made consultancy and training support for best use of any of our metals, alloys or machinery and recycling development services.
If you require any further information about ordering selenium or wish to discuss future production projects, please contact us.
METACONCEPT Groupe
Parc des Sables – 17 Route des Sables
69630 Chaponost
FRANCE
France : 04 78 51 38 38
Export : +33 478 518 597