STAR® Babbitt Bearing Alloys from the Metaconcept Group
About Babbitt Bearing Alloys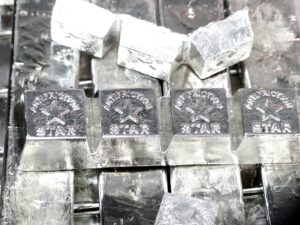 Originally invented by Isaac Babbitt in 1839, Babbitt alloys (also known as bearing alloys or bearing metal) use a combination of hard and soft metals to facilitate the flow of lubricants and so reduce friction. The term covers a wide range of different alloys for different applications. The METACONCEPT group offers its STAR® range of bearing alloys, but we can also manufacture custom alloys based on your specifications.
If you require a particular product, we can check our extensive library to determine its composition, even if you only have the manufacturer's reference. We supply our alloys as high quality ingots, ready to use in your manufacturing processes, and guarantee the availability and quality of our products over time. On request, we can also furnish certificates of quality and composition.
Bertrandias S.A., a member of the METACONCEPT Group of companies
With over 140 years' experience, Bertrandias S.A. joined the METACONCEPT Group in April 2012. The group continues to offer its STAR® and ETAMALLOY® product ranges, including STAR® Babbitt bearing alloys. This product range, designed to meet all major international standards, covers a wide variety of applications, from STAR® CAB, designed for cable linings, to STAR® OH AVIATION, which is suitable for high performance engines. Each product has its own characteristics in terms of hardness, elasticity, resistance and resilience.
We will be more than happy to advise you on the most suitable product for your application and on the appropriate manufacturing processes. We can offer the bearing alloys you need to meet your requirements, whatever they are.
METACONCEPT Groupe
Parc des Sables – 17 Route des Sables
69630 Chaponost
FRANCE
France : 04 78 51 38 38
Export : +33 478 518 597